COSCA helps protect and maintain the wilderness of the Conejo Valley
It's no accident that many areas of Thousand Oaks are surrounded by natural hillsides with no housing developments on top of them, like so many other parts of Southern California. One big reason is the Conejo Open Space Conservation Agency (COSCA), a joint powers authority created in 1977 by the city of Thousand Oaks and the Conejo Recreation and Park District.
Source of this article: The Ventura County Reporter, April 3, 2023
COSCA owns or manages 12,700 acres of protected open space including well-known Thousand Oaks landmarks such as Tarantula Hill, Paradise Falls in Wildwood Park and the 326-acre Rancho Potrero near Newbury Park featuring views stretching from the Channel Islands to the highest peaks in the Santa Monica Mountains.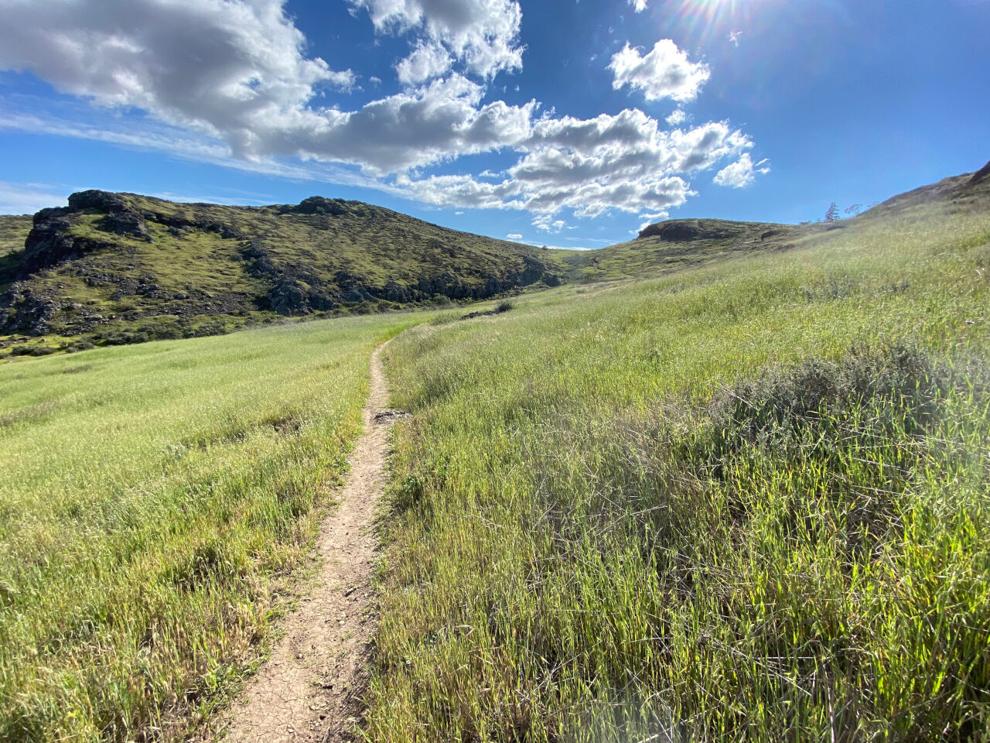 Rorie Skei has played an important role in COSCA since its creation. Skei became active in open space protection efforts after moving to Thousand Oaks in the 1970s and earning a master's degree in environmental science from California State University Dominguez Hills where she based her dissertation on research conducted along the Arroyo Conejo, which includes Paradise Falls.
Skei helped lead the drive to create COSCA in the 1970s after founding a charity to protect habitat around what's now known as Conejo Canyons Open Space, near Thousand Oaks' Hill Canyon Wastewater Treatment Plant. Skei joined the COSCA board in 1980 and has served as chairperson since 1983.
Agencies like COSCA that preserve open space are fairly common now, but Skei told the Ventura County Reporter that they were still a new concept in the 1970s, when the city of Thousand Oaks required developers to set aside about half of their property (generally the steeper sections) for open space.
"That was really quite novel because I think it was the first ever JPA [Joint Powers Agreement] in the state that was formed specifically for open space acquisition and management," Skei said. "The genius of the early planning efforts was the idea of having a ring of green around the Conejo Valley."
Many benefits to open space
Aside from the scenic value of the 41 open space areas COSCA preserves, they also provide important wildlife habitat for species including bobcats, mule deer and coyotes. Endangered and threatened plants also grow on COSCA property including yellow-flowered Lyon's pentachaeta found only in the Conejo Valley.
The recreational value for humans who use more than 150 miles of trails winding across COSCA lands is also hard to overstate, Skei said. "Study after study has now shown that having proximity or exposure to nature is really important for people's health, mental and physical well being. People used to say, 'We don't want this to be another San Fernando Valley.' Well, it was never going to be that, but it's the contrast. Wall-to-wall concrete in some areas and then here we have unfettered, beautiful ridgelines."
It's hard for Skei to name a favorite open space area, comparing that task to naming a favorite child. She mentions the views from Rancho Potrero and her pride at helping create the 950-acre Lang Ranch Open Space that protects oak woodlands, riparian corridors and rolling grasslands and features the Chumash Indian Museum honoring people who called the area home for thousands of years. She also has a soft spot for one of the smaller preserves, 45-acre Tarantula Hill located near the geographic center of Thousand Oaks off Gainsborough Road.
"It's a really cool little neighborhood hike, really. And it's a volcanic cinder cone. That was one of the things that seemed to intrigue school kids when I would do programs. You know, 'It used to be a volcano!'" said Skei, who could not say how many of the large, furry spiders live there now. "I'm not sure how the name came to be. Somebody was probably hiking up there and saw one."
In addition to serving on the COSCA board for many decades, Skei also works as Chief Deputy Director of the Santa Monica Mountains Conservancy, a state agency that's helped preserve over 75,000 acres of parkland in urban and wilderness settings since its creation in 1980.
Looking back on all that's been accomplished over the last four decades, Skei is proud of the numerous natural areas that have been protected since she started on the COSCA board. "It's very gratifying. I mean, obviously, I don't think I could have dreamed at the time that I'd be on for so long or that so much beautiful land and important habitat has been protected. And like I said, the recreational component has become hugely important, too. And that's another big, big win, I think, for the people in Thousand Oaks and the Conejo Valley."
Arroyo Conejo bridge
Even though COSCA's mission of acquiring vast areas of open space is largely in the rear-view mirror, the agency continues to acquire small parcels and keeps focused on habitat restoration work and planting native vegetation. Another important project COSCA is working on right now involves construction of a new bridge over Arroyo Conejo downstream from the wastewater plant that will provide a better connection between the Conejo Canyons Open Space and Wildwood Park to the east.
COSCA Administrator Brian Stark said the new bridge will improve safety by keeping people off Hill Canyon Road frequented by trucks headed to the wastewater plant. The bridge will also encourage more people to hike from the Conejo Canyons Open Space trailhead off Santa Rosa Road instead of parking in Thousand Oaks neighborhoods near Wildwood Park, which has drawn the ire of residents as hiking became more popular in recent years.
"Having people get up that uphill canyon on a trail is just a lot safer. Plus, I think it's just much nicer," Stark said. "We can get them onto a trail and they can get back over to the other side [of Arroyo Conejo] to get to Paradise Falls."
Groundbreaking on the bridge is expected around September and it should be done by this time next year. Stark said the $3 million prefabricated bridge will make it more convenient to access some beautiful areas.
"The bridge is really kind of the missing link," Stark said. "Linking these two systems really lengthens the rides, the runs and the hikes that people can take and the diversity of landscapes they'll see while they're doing it."