Famed mountain lion P-22 laid to rest in private tribal ceremony
Members of 4 tribes honor the beloved cougar with a burial in an undisclosed spot
Source of this article: The Los Angeles Times, March 7, 2023
P-22, the mountain lion who prowled Griffith Park for more than a decade, was buried Saturday in an intimate tribal ceremony in the Santa Monica Mountains.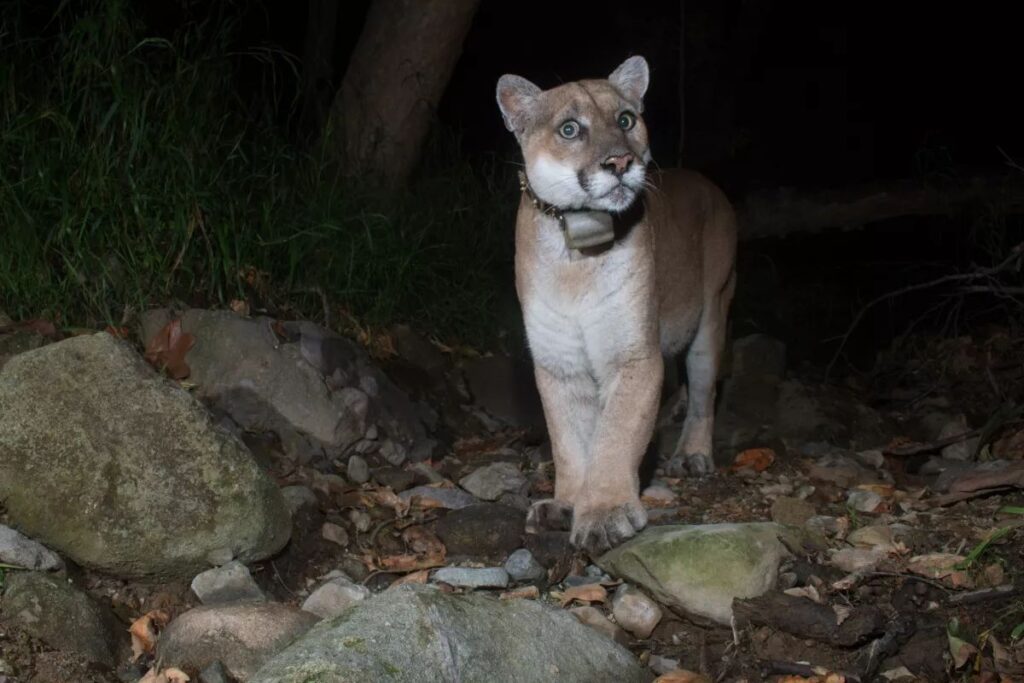 Members of four local tribes led the ceremony to honor the beloved puma, a symbol of the wilderness still present in Southern California. A small group of officials from organizations that had studied and championed P-22, including the National Park Service and the National Wildlife Federation, also attended.
P-22 was buried where he most likely was born and where other mountain lions still roam. The sacred ceremony was not open to the public and was not recorded. To protect P-22's remains, the location of the grave will not be disclosed.
"We had one simple goal: To try and be as respectful as possible to such a magnificent animal," said Alan Salazar, a tribal elder with the Fernandeño Tataviam and Ventureño Chumash tribes. "He was a leader. He was a chief."
In one of the most powerful moments of the ceremony, a red-tailed hawk wheeled overhead and called out several times, attendees said.
During the ceremony, tribal members performed traditional songs and made offerings, Salazar said. Attendees also formed a circle, and anyone "who wanted to offer a prayer, or just say a few words, express their feelings, everyone was allowed to do that — Native, non-Native."
"It was a beautiful, natural setting," said Beth Pratt, a regional executive director in California for the National Wildlife Federation. "Knowing the beauty of where he's laid to rest, it gives me some comfort."
The private burial, Pratt said, was a stark contrast to the public memorial for P-22 at the Greek Theatre last month. That event lasted more than three hours and featured four dozen tributes, including songs and speeches, to the puma sometimes called the "King of Griffith Park."
P-22 was euthanized in December after a series of health exams revealed he was suffering from several chronic conditions and had sustained a skull fracture from being hit by a car in Los Feliz. He was thought to be about 12 years old.
The mountain lion surprised the world when he appeared in Los Feliz in 2012. He is believed to have been born in the Santa Monica Mountains and to have made an improbable journey to reach Griffith Park, through the Hollywood Hills and across the 405 and 101 freeways.
Saturday's burial also marked the end of months of discussion about how to handle the remains of an animal seen as critical to scientific research but also sacred to local tribes that see mountain lions as teachers and relatives.
Before P-22's death, the Los Angeles County Natural History Museum secured a permit from the California Department of Fish and Wildlife to keep the mountain lion's remains for scientific research. That alone was a departure from tradition; typically, the bodies of wild animals are discarded.
After tribal communities raised concerns about the plans for P-22's body, the museum convened a panel with representatives from several tribes — including the Gabrielino-Shoshone Nation and the Gabrieleño/Tongva San Gabriel, Fernandeño Tataviam and Barbareño/Ventureño Bands of Mission Indians — to hammer out a new plan with the NPS and the fish and wildlife department.
"There's not a government agency out there that I trust," Salazar said. "For us to sit down at the table, have a cup of tea, break bread, and then make some important decisions that are going to set precedent — it was very refreshing to see. It gives me hope."
Salazar said the group was "democracy at its purest. We would discuss, debate, and then go, 'OK, let's just take a vote on it.' It was majority rules, and that's how we made all of our decisions."
After meeting for weeks, the groups settled on a private burial. On Saturday morning, tribal pallbearers picked up P-22's body from the Natural History Museum, said Amy Gusick, the museum's curator of anthropology.
A museum woodworker had been asked to build a box for P-22's final journey to the burial site. He surprised the group with a special biodegradable casket made of untreated pine and coated with orange oil and beeswax. At the request of the tribes, the museum is keeping the box for any future repatriation of other animals, Gusick said.
P-22's body was buried in a shroud.
"As a tribal person, our village sites have been desecrated and destroyed," Salazar said. "If people find out that there's an ancient village site near them, they're going to dig them up. It was a concern that not everyone is respectful of a burial. There are some people who — it bewilders me — would want a tooth or a claw from such a sacred animal."