Planning to visit the superbloom in Lake Elsinore? Here's why the city won't let you
Citing safety concerns, officials closed all trails to Walker Canyon, which played host to tens of thousands of people during a superbloom in 2019.
Source of this article: The Los Angeles Times, February 8, 2023
Th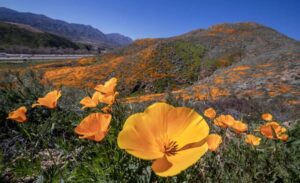 e California golden poppies have returned to Lake Elsinore, but this year they're going to be alone.
City officials on Tuesday closed all trails to Walker Canyon, a popular hiking trail that played host to tens of thousands of people during a golden poppy superbloom in 2019.
Officials also announced they would close a 15 Freeway offramp to the area and parking will also be prohibited. Hiking trails on public and private land will be closed until after the poppy bloom is over, Lake Elsinore Mayor Natasha Johnson said.
Officials closed access to the blooming wildflowers over safety concerns. Johnson said this year's superbloom does not appear to be close to the big superbloom of 2019. But there is no fixed schedule for poppies to follow, according to experts.
"Back in 2019, numerous safety incidents occurred on the trails and on our roadways," Johnson said during a news conference Tuesday. "Tens of thousands of people, as many as 100,000 in a weekend — people of Disneyland-sized crowds — were seeking to experience nature. They trampled the very habitat that they placed so high in regard and sought to enjoy."
The city will also not provide shuttle services to Walker Canyon, meaning that no one will be allowed to experience the blooming wildflowers this year.
"We know that people want to see a beautiful sea of color. We also want the land in our community to thrive," Johnson said. "You will not be able to get here."
Riverside County Sheriff Chad Bianco said law enforcement will take a zero-tolerance policy for people who are caught trespassing in the area.
"Your warning is right now," Bianco said. "If you are going to come here and you are going to park your car, you are subject to citation and possibly the towing of your vehicle."
Bianco said some visitors to Walker Canyon in 2019 showed a lack of respect to other drivers and property owners in the area. There were also many injuries among hikers and it was difficult for emergency responders to get to the area.
"Unfortunately, the area around Walker Canyon is not suitable for heavy traffic," Bianco said.
The area will be regularly monitored by county officials and there is no fixed schedule for the closure.