Hikers, bikers angered after Griffith Park-area road opens to cars
Hikers and bikers don't mix well with Hollywood sign tourists
Source of this article: The Los Angeles Times, March 30, 2015
A city of Los Angeles decision to allow motorists to use a popular hiking and cycling route in Griffith Park to alleviate congestion on other hillside roads has pitted park lovers against area residents, mirroring a similar dispute in neighboring Beachwood Canyon.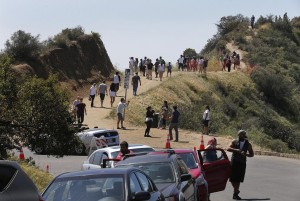 In mid-March, the Recreation and Parks Department opened a 1.1-mile stretch of Mt. Hollywood Drive to traffic as part of a three-week trial period to ease congestion for tourists seeking close-up views of the Hollywood sign. The route, just west of Griffith Observatory, was closed to cars two decades ago.
But road space is at a premium as traffic in the park grows worse, officials say, and opening up new routes is something worth exploring.
"It's unbelievable, the amount of people who are coming to view the city, to view the sign, and to experience Los Angeles," City Councilman Tom LaBonge said, adding that the congestion has "overwhelmed" the park. He said the department is "trying to experiment to see if this could work."
GPS technology has helped tourists find new Hollywood sign vistas, including on twisting, curving side streets in the Hollywood Hills that weren't built to accommodate high volumes of traffic. Residents of Beachwood Canyon for years lobbied local officials for help, saying the congestion could prevent emergency vehicles from reaching fires. Now, Google Maps and other GPS systems direct drivers to the observatory, which has put a strain on the park's roadways and parking lots.
Though traffic jams can be an issue, others say, allowing cars to mix with people biking, hiking and walking their dogs will create safety problems. Already, cycling advocates say, they've seen close calls between bikes and drivers searching for a place to park on an unfamiliar road. Others say allowing vehicles mars a cherished green space in a city clogged with traffic.
"To see this refuge sacrificed in the name of automotive convenience would be a shame, as well as a poor reflection on a city that claims to be moving away from dependence on cars," wrote Niall Huffman, a 31-year-old Koreatown resident, in a letter to city officials.
In an online petition that has received nearly 1,000 signatures, bicycling advocate Don Ward wrote that Mt. Hollywood, "once a quiet wilderness preserve," has become "traffic chaos." The route is an important corridor for wildlife, he wrote, and a space for people to experience nature in Los Angeles.
"I grew up in Lake Hollywood, and I've been going to that park since I was a baby," Ward said. "Allowing cars and trams here is a foot-in-the-door, slippery-slope type of deal."
The trial run on Mt. Hollywood Drive is slated to continue until April 12. A parks agency spokeswoman could not be reached for comment.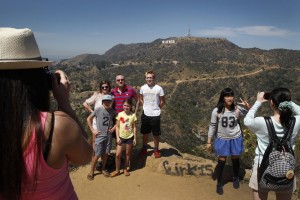 LaBonge said he would prefer that the road remain closed to cars, but he supported the trial route to "see if it could work." If the city does open the road to traffic permanently, he said, cars should be allowed only during certain hours, to keep the paths free for cyclists and hikers.
In the long term, LaBonge said, he wants "very, very restrictive parking" to turn tourists away from Beachwood Canyon and shuttles from the Hollywood/Vine Metro Red Line station to suitable Hollywood sign vistas.
Residents in Beachwood Canyon say they've already seen an improvement in traffic as more drivers favor Mt. Hollywood. "It's really cool to see the changes that we've seen in just the last three weeks," said Tony Fisch, 60, a consultant who lives in Lake Hollywood. "If you can provide access in more places, they absolutely should do it."
Fisch said he rides his bike for at least an hour and a half each day and enjoys the trails in Griffith Park. But, he said, invoking Spock from "Star Trek," "The needs of the many outweigh the needs of the few."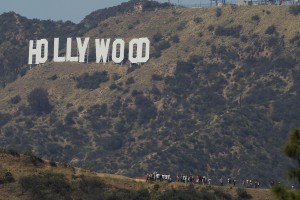 "Any solution that doesn't look at the benefits for everybody is self-centered," Fisch said. He added that safety for the park and its surrounding neighborhoods should be the city's primary concern.
Carolyn Ramsay, one of two candidates competing in a runoff to replace LaBonge, said she wanted the city to consider leaving Mt. Hollywood open to shuttles but not to cars. A spokeswoman for David Ryu, Ramsay's opponent, said he was "still meeting with concerned residents and waiting to hear the findings of the city's pilot program."
Ward said even shuttles would ruin the route for cyclists and hikers. The best option, he said, would be running DASH buses to the observatory more frequently.