Mountain lion known as P-33 makes a safe freeway passage
Researchers said big cat's bold journey offers a measure of hope for survival of mountain lions in the region
Source of this article: The Los Angeles Times, March 20, 2015
A 16-month-old female mountain lion made famous in a series of remote-camera photographs left the Santa Monica Mountains early on a recent morning and somehow managed to cross the eight-lane 101 Freeway near Camarillo.
Surprised wildlife researchers said Thursday that the big cat's bold journey offers a measure of hope for the survival of mountain lions in the region.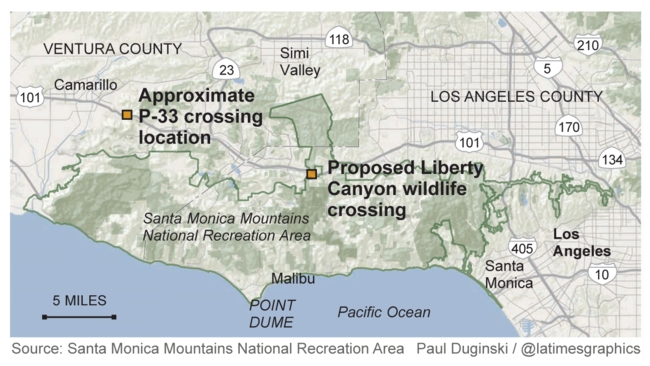 The safe passage of the puma known as P-33 marks only the second time that National Park Service scientists have documented a successful crossing of the freeway since they began studying local mountain lions in 2002.
The other big cat to accomplish the harrowing feat was P-12, a male who crossed in 2009 in the opposite direction, from north to south.
In an all-in-the-family twist, P-12 fathered P-33.
Now the scientists are hoping that P-33 will find a genetically unrelated mate on the other side of the 101.
"It's a pretty big deal from our perspective," Seth Riley, a wildlife ecologist for the Santa Monica Mountains National Recreation Area, said of the latest discovery. "It's just cool in that it's something we've seen very little and something so important for this population to do."
Riley and his team have so far studied 35 mountain lions. The scientists have long emphasized that the animals' ability to roam to new territories is critical for maintaining the population's long-term genetic health.
P-12's successful crossing, as well as an attempt in late 2013 that ended when the young male lion was struck and killed by a vehicle, happened near Liberty Canyon in Agoura Hills.
Riley said Liberty Canyon remains the best location to build a planned wildlife crossing across the 101.
According to GPS data, P-33 crossed on the Conejo Grade between midnight and 2 a.m. on March 9. Riley's team has been tracking her and her two siblings since they were 4 weeks old.
P-33, who had only recently left her mother, was the subject of a series of extraordinary photographs that showed her feeding on a deer carcass.
Scientists have some concern that it will be difficult for her to navigate the relatively narrow ribbon of habitat to get to the Santa Susana Mountains to the north.
GPS data show that the pumas Riley and his team are tracking often go right up to the edges of freeways and, sensing danger, then turn around. After seeing the same pattern for more than a decade, Riley said, it was exciting to see a lion figure out how to cross to other natural areas to the north.
Young males are more likely to move than females.
The region's most famous mountain lion is P-22, who is believed to have crossed both the 101 and 405 freeways as he headed east into Griffith Park. He was not wearing a tracking device at the time but has since been captured and collared. He remains hemmed in by multiple highways and at this point has no possible mates.