San Gabriel Mountains declared a national monument
President Obama officially designates San Gabriel Mountains a national monument
Source of this article: The Los Angeles Times, October 11, 2014
President Obama on Friday officially set aside 346,000 acres of the San Gabriel Mountains as a national monument, a move to link more communities east of Los Angeles with wild places in their own backyards.
"This is an issue of social justice, because it's not enough to have this awesome natural wonder within your sight — you have to be able to access it," Obama said at a ceremony attended by more than 150 people at Frank G. Bonelli Regional Park in San Dimas.
"Right now, campgrounds are crowded, parking lots are tight, and there haven't been enough resources to manage and maintain this area the way it deserves," he said. "So designating the San Gabriel Mountains as a national monument is just the first step toward a broader effort to change that."
Agencies, nonprofits and local communities now must negotiate a management plan and funding strategies for the San Gabriel Mountains National Monument, which officials expect to take three years to complete.
The monument, formed by re-designating about half of the Angeles National Forest, will be managed by the U.S. Forest Service. It comes with no new government money, although advocates hope funds will come from public and private donations and from adjusting the Forest Service budget.
The National Forest Foundation, a nonprofit funding arm of the Forest Service, said Friday it has established a $3-million fund to speed high-priority restoration projects in the monument.
Obama compared the history of the range to "the story of America. It's the story of communities exploring the great West –- of Native Americans and Spanish missionaries, of colonialists and rancheros, of merchants and landowners. It's the story of prospectors in search of gold, of settlers in search of a new life."
"It's a story that continues today, with one of our nation's most vibrant, diverse communities in the backyard of the second-biggest city in the country," he said.
"We heard from the community that for a lot of urban families, this is their only big, outdoor space," Obama added. "And too many children in L.A. County, especially children of color, don't have access to parks where they can run free and breathe fresh air, experience nature and learn about their own environment."
The monument embraces alpine peaks and streams that are home to rare and endangered species including the California condor, Nelson's bighorn sheep and mountain yellow-legged frogs. Its historic treasures include Native American rock art and the Mt. Wilson Observatory, where Edwin Hubble discovered galaxies beyond the Milky Way.
The San Gabriel River takes shape in three forks that drain a lacework of pristine mountain creeks. They include the West Fork, which provides some of the best fly-fishing in Southern California and helps recharge the metropolitan aquifer in the flatlands below.
But the range is also susceptible to fires and crowds who bring vandalism, drug deals, car burglaries, trash, illegal campfires and emergency rescues.
Environmental organizations hailed Obama's action.
"This is an incredible opportunity for local communities to directly engage in shaping recreational opportunities in this unique natural resource," said Daniel Rossman, a spokesman for San Gabriel Mountains Forever, a coalition of environmental and community groups that has long campaigned for the designation.
But some critics were not impressed. As Obama spoke on Friday, more than a dozen people demonstrated against the designation, saying it raises unanswered questions about its potential effect on private property rights, flood control and emergency services.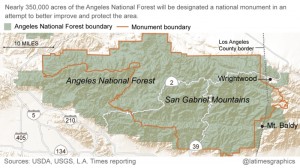 In a concession to opposition by San Bernardino County officials and other critics, the monument excluded portions of the San Gabriel range extending into the western reaches of the county, including the mountain communities of Wrightwood and Mt. Baldy. County officials complained the new status would hamper growth and fire safety.
Rejecting critics' claims of a federal land grab, administration officials said it is intended to protect the mountains from encroachment from foothill subdivisions in the San Gabriel Valley and Lancaster, cuts to the Forest Service budget and crowds eroding the natural landscape.
As a national monument, the San Gabriels will honor existing property and water rights, public access and rights-of-way for roads and utility infrastructure, administration officials said. Existing recreational activities — such as hiking, camping, fishing, cycling and panning for gold — will be unaffected.
Obama made the designation under the 1906 Antiquities Act, which authorizes presidents to create national monuments on federal land to protect "objects of historic and scientific interest." It was the 13th time Obama has used his executive power to establish or expand a national monument without congressional approval.
With his second term winding down, Obama has now protected 260 million acres of land and water, nearly three times more than any other president.
The designation was urged by Rep. Judy Chu (D-Monterey Park), who introduced a bill this year to address problems in the range by creating a "national recreation area" co-managed by the Forest Service and the National Park Service. Legislation on her bill has stalled.
"With this designation," she said, "the hard part is over. Now we need to get more signs, trails and rangers up there."