Santa Monica Mountains Fund to Host Mountain Lion Fundraiser May 19
All proceeds go towards mountain lion study. The deadline to RSVP is May 12.
Source of this article: The AgouraHillsPatch, May 3, 2013
The  Santa Monica Mountains Fund, official fundraising partner of Santa  Monica Mountains National Recreation Area, will host a fundraiser to  support mountain lion research at King Gillette Ranch on Sunday, May 19  from 2-5:00 p.m.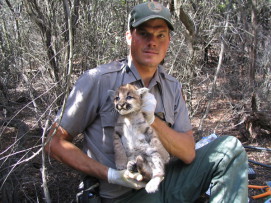 All  proceeds will support the decade-long mountain lion study currently  conducted by the National Park Service. Park biologists are currently  tracking eight mountain lions in an effort to understand how mountain  lions survive in such a fragmented, urban landscape and how best to  conserve them.
"The  good news is that advances in technology like remote cameras and GPS  collars have allowed researchers to learn more about the behavior of  mountain lions," said Arthur Eck, executive director of the Santa Monica  Mountains Fund. "Unfortunately, GPS collars average about $5,000, so  it's increasingly difficult for the park to cover the cost of the  research."
In  addition to educational displays and a brief presentation by mountain  lion experts with the National Park Service, the event will feature a  live mountain lion, interactive tracking trail, silent auction, live  music and food and wine. Nationally acclaimed artists Fred Stone and Joe  Weatherly, as well as National Geographic photojournalist Steve Winter,  have donated pieces for the silent auction.
The  Santa Monica Mountains Fund requests a donation of $100 for adults and  $25 for children under 12. Reservations, as well as general donations,  can be made at http://www.samofund.org/UrbCarn.htm. The deadline to RSVP is May 12.
For more information, call 818-292-5920.