Petroglyphs stolen from sacred eastern Sierra site recovered
A tip on the location of Indian panels ay have come from the thieves themselves.
Source of this article: The Los Angeles Times, February 1, 2013
Federal investigators acting on a tip have recovered five petroglyph panels that thieves cut from an eastern Sierra site sacred to Native Americans, U.S. Bureau of Land Management officials said Thursday.
The location of the petroglyphs, stolen last fall, was disclosed in an anonymous letter to authorities.
By failing to sign the letter, its author walked away from a $9,000 reward — a sign that the tip may have come from the thieves themselves. Experts had said the petroglyphs would fetch little money from collectors and would be difficult to fence because of widespread publicity about the theft.
No arrests have been made and the investigation is continuing, officials said.
Bernadette Lovato, manager of the BLM field office in Bishop, declined to disclose details about the recovery, including when or where the petroglyphs were found. "The panels are currently being held as evidence," Lovato said.
"Now, the healing can begin," she said. "Recovery was a priority for me, and the public outrage intensified the need for them to be returned."
Investigators believe the vandals used ladders, chisels, electric generators and power saws to remove the panels from cliffs in an arid high-desert region known as Volcanic Tableland, about 15 miles north of Bishop. The thieves gouged holes in the rock and sheared off slabs that were up to 15 feet above ground and 2 feet high and wide.
The theft was reported to the BLM last Oct. 31 by visitors to the area, where Native Americans had carved hundreds of lava boulders and cliffs with spiritual renderings: concentric circles, deer, rattlesnakes, bighorn sheep and hunters with bows and arrows.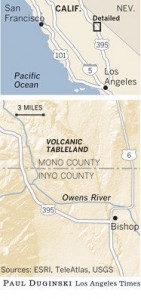 The site, which is still used by the local Paiute Indians for ceremonies, is protected under the Archaeological Resources Protection Act and is listed in the National Register of Historic Places. Authorities said the petroglyphs were probably worth no more than $500 to $1,500 each.
But they are priceless to Native Americans, who regard the massive tableaux as a window into the souls of their ancestors.
"It feels real good to have them come back home," said Raymond Andrews, Paiute tribal historic preservation officer.
Lovato said the petroglyphs may eventually be put on public display, "but that will be up to Paiute-Shoshone tribal leaders."
Damaging or removing the petroglyphs is a felony. First-time offenders can be imprisoned for up to one year and fined as much as $20,000, authorities said.
Anybody with information about the theft is asked to contact the BLM at (760) 937-0301 or (760) 937-0657.