Yosemite plan calls for more campsites and parking spaces, no visitors cap
The National Park Service would restore 203 acres along the Merced River and eliminate an ice rink, commercial horseback riding, hotel swimming pools and raft and bicycle rentals.
Source of this article: The Los Angeles Times, January 9, 2013
Yosemite Valley would have more camp sites and parking spaces — and the number of daily visitors would not be reduced — under a National Park Service plan intended to ease congestion in one of the country's most scenic spots.
The proposal is the agency's third attempt to produce a legally acceptable management plan for the Merced River and the ever popular valley that it flows through. Environmental groups have twice sued the agency, winning court orders that compelled the park service to draw up new blueprints.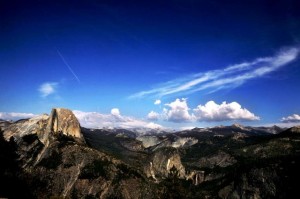 The latest effort, a lengthy draft document released Tuesday, navigates a middle course. The agency's preferred alternative would restore 203 acres along the river, change traffic circulation and parking, and eliminate an ice skating rink, commercial horseback riding, hotel swimming pools and raft and bicycle rentals.
But the plan steers clear of the politically sensitive issue of reducing the number of visitors to the valley, which on a busy summer day can be packed with nearly 20,000 people.
Kathleen Morse, chief of planning for Yosemite National Park, said the proposal tries to give the public what it wants. "The feedback they gave us was consistent with what we ended up with in the preferred alternative: We want to be able to come to Yosemite. We want to have our cars. We hate the traffic. We would like you to do something about congestion and we want more camping."
Park planners tried to figure out how best to use the limited land base of the valley, which is 1 mile wide and 7 miles long. They decided some commercial activities could go, including the pools, skating rink and other activities.
A pedestrian underpass would be built to ease traffic on a busy road near Yosemite Lodge. Unofficial roadside parking would be eliminated. A new remote parking lot would be built at El Portal just outside the park and a 100-car dirt lot would be opened for overflow traffic during peak visitor days, increasing parking in the valley by 5%. Both lots would be served by shuttles.
No new construction would be allowed within 150 feet of the Merced River, eroded riverbanks would be repaired and vulnerable areas would be off limits to visitors. Some informal trails in meadows would also be removed. Trails and boardwalks at Bridalveil Fall would be redesigned.
The park service proposes adding 174 camping sites in the valley and replacing some tent cabins in Curry Village with year-round cabins. Some aging, employee housing would be replaced with new buildings.
Representatives of the two small environmental groups that have sued the service over previous management plans said they haven't had time to thoroughly study the lengthy new document.
John Brady, chairman of Mariposans for the Environment and Responsible Government, said that while he was not happy with the park's preferred alternative, the draft was an improvement over previous plans.
"I had a relatively positive reaction to it," Brady said. "I think the park service did a good job."
Greg Adair, director of Friends of Yosemite Valley, was less enthusiastic.
"The plan shouldn't be fundamentally about a tweak here and a nip and tuck there about infrastructure and visitor services," Adair said. "We would like to see them do a plan that makes the connection between the visitor experience and the preservation of the natural environment: That essentially solves the problem of how many people can optimally experience Yosemite at its best."
The draft will be open to 90 days of public comment, after which the park service will issue a final decision.