Boardwalk planned for trail where giant sequoias fell
Forest Service received slew of suggestions on how to proceed after twin giant sequoias blocked portion of popular trail.
Source of this article: The Los Angeles Times, December 13, 2011
By Bettina Boxall, Los Angeles Times
The U.S. Forest Service is proposing to build a boardwalk near the twin giant sequoias that toppled to the ground along a popular trail, an event that garnered national attention and a slew of suggestions about what to do with the ancient trees.
The agency received more than 150 comments from the public, ranging from "cut them into firewood" to "leave them alone."
In a letter sent Friday to interested parties, the Forest Service said it believes the best solution is to construct an elevated boardwalk about five feet south of the prone twins, which are joined at the base and blocking a loop of the Trail of 100 Giants in the Giant Sequoia National Monument.
The boardwalk would connect the severed ends of the loop, maintain access for the disabled and provide visitors with a close-up of the fallen giants without disturbing them.
Believed to be about 1,500 years old, the trees in the Long Meadow Grove were roughly 280 feet tall and had a 17-foot diameter at their common base. They fell in late September, when only a few people were on the trail, including an astounded German tourist who videotaped the dramatic crash.
No one was hurt, but a pedestrian bridge was destroyed along with portions of the paved path, which in peak summer season attracts 5,000 visitors a week. The dislodged root ball left a 10-foot-deep hole in the ground.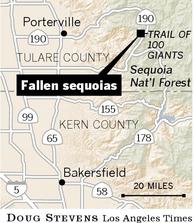 A number of suggestions involved cutting passages through the downed trees, removing portions that cover the trail or rerouting the 1.3-mile loop around them.
But the agency found problems with those schemes: They would entail the use of heavy equipment that could damage sequoia roots or would require cutting down large non-sequoias in the grove.
A bridge over the sprawling giants, another suggestion, would be difficult for the disabled to negotiate, and a tunnel under them would encounter a high water table.
Boardwalk construction, the Forest Service said, would have little effect on trees or root systems.
The giants, which sprouted at the end of the Roman Empire and were middle-aged by sequoia standards, appeared to have been healthy. The agency said it was unsure why they toppled but noted that last winter was unusually wet, possibly leaving the ground too soggy to hold their roots.
Critics of the monument's management cited the removal about six years ago of more than 200 trees along the giants trail. The Forest Service said the trees, none of them sequoias but some of them big and old, posed a hazard. Environmentalists contended that the project was a thinly disguised timber sale that left the sequoias more vulnerable to punishing winds.