Equestrian culture may be fading into the sunset
Urban sprawl has been encroaching on the equestrian lifestyle for decades, but with a string of stables closing across Southern California, horse lovers say the threat seems more dire than ever.
Source of this article – Los Angeles Times, January 26, 2009.
By Jessica Garrison
As the horse named Sombrero strained up a hill above Hansen Dam, Mary Benson leaned forward over his neck and surveyed the stunning landscape of sun-dappled oaks and trickling mountain streams.
But the view broke her heart: A subdivision where horse trails used to be. Condos and houses that used to have stables behind them. One sign after another of the disappearing horse culture in her neighborhood.
"We are losing an irreplaceable piece of the American culture . . . and the Western heritage," Benson said.
The problem isn't confined to the northeast San Fernando Valley. A flurry of recent stable closures has generated talk where equestrians gather about whether the Southern California horse culture can survive the sprawl of suburbia and its relentless appetite for onetime ranch land.
In December, a collection of ramshackle stalls near the city of Industry abruptly shut down, forcing out a small group of Mexican immigrants who had boarded their horses there at low cost.
The stables had been a gathering place for vaqueros from Zacatecas and Guerrero, and the closure prompted some of the families to give up their horses altogether. The loss follows the disappearance of many other stables along the San Gabriel River watershed.
Weeks later, officials in Orange County announced they might turn the county's Fairgrounds Equestrian Center into a parking lot — the latest of many Orange County casualties. "There used to be stables all up and down the Santa Ana River, more than 20," said Jim Meyer of the advocacy group Trails4All. "Now there are two left . . . and one of them is up for sale."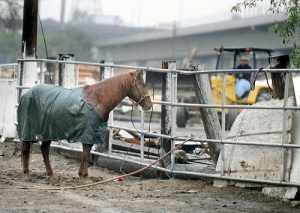 The picture in other urban-adjacent areas around the state is similar.
Earlier this month, the Cevalo Riding Academy in San Jose closed its doors — the land prized for homes over equines even in this post-bubble environment.
Other stables giving way to homes or parking lots include the Wild Horse Valley Ranch in Napa, the equestrian showgrounds at the state fair in Sacramento and San Diego's famed Miramar Stables, said Deb Balliet of the Equestrian Land Conservation Resource, an advocacy group based in Lexington, Ky.
It's happening all over the country, but California "is being really hard hit," Balliet said.
To be sure, equestrians have been complaining about threats to their lifestyle almost as long as Southern Californians have been moaning about traffic.
A 1961 article in The Times quoted rider D.C. McCarthy declaring that the "land is simply too valuable for uses such as this." He predicted that horses in Los Angeles would soon go the way of the Valley's once-predominant citrus groves.
That hasn't quite happened. But there are certainly fewer stables in the region than there were in the 1960s.
McCarthy, for example, talked to a reporter as he rode out of a stable at 3205 Los Feliz Blvd., near Griffith Park, an address that now holds luxury apartment buildings.
Some horse owners say they fear more than just the disappearance of stables.
"This is a dying phenomenon," said Barbara Blanco, a Loyola law professor and amateur horsewoman. "I am convinced we are the last generation that will keep horses in our yards."
Horses are "increasingly a very expensive luxury," she said.
Other horse owners say that prediction may be a bit dire — there are still dozens of stables and thousands of horses in Southern California, although precise numbers are difficult to come by. (The city of Los Angeles is among the only jurisdictions to register horses; it has a record of 1,793 — an increase over last year, but one that officials attribute not necessarily to more equines but to better outreach to get owners to fill out paperwork.)
Still, many say it is time for government to do more to preserve horse keeping.
Kristene McGovern, a board member with the Equestrian Coalition of Orange County, said her group wants county officials to help protect stables on public land.
In the San Fernando Valley, Benson and others have formed an advocacy group, the Los Angeles Horse Council, to argue for zoning and other changes that could benefit horse owners.
The third-generation horse owner estimates that more than 50 stables in Lake View Terrace, Sylmar and Sun Valley have closed in the last decade.
That should be of concern even to those who wouldn't dream of climbing onto a horse's back, she said.
According to Benson, the vanishing of horses is a sign that "we are separated from the land. . . . People are afraid of the dirt. They are afraid of the dark. They have no sense of their place in the natural world."
Benson thinks there are a few things government could do to help horses and their owners. One item on her wish list is changing property-tax rules so that horse keeping could be considered an agricultural use (it is currently a commercial use in most instances), allowing horse operators to qualify for significant tax benefits.
The group also wants to find ways to prevent horse property from being rezoned for commercial uses, making it more difficult for stable owners to sell their land for shopping centers or parking lots. But that move is likely to be controversial because it could hurt property values.
The group has met with a handful of local elected officials to press its case, including Los Angeles City Councilwoman Wendy Greuel and state Sen. Alex Padilla.
Past efforts at preventing zoning changes have met with little success.
Even as she throws herself into equine activism, Benson sounds fatalistic. As her horse picked his way through Little Tujunga Wash on a recent morning, she flicked her heels against his flanks, pulled on the reins with her left hand and directed the animal toward where the wash passed under whizzing cars on the Foothill Freeway.
With her long gray hair and steely gaze, Benson sat on her horse with a firm authority over the animal — even if she can't control what happens to his environment.
"I grew up riding these trails," Benson said. But when she was young, she said, the trails stretched farther and the whole community had horses and would ride them together.
Although her daughter loves to ride, her husband and son don't. So now when Benson rides, she often rides alone.