223,000-acre Zaca fire rages in Los Padres National Forest
For Ojai residents, rugged beauty and 'small-town feel' outweigh the threat of wildfires. As it blazes on, the Zaca fire has earned a place in history as the California's second-largest inferno.
Source of this article – Los Angeles Times, August 23, 2007.
Romero Canyon Trail plowed for fire access
By Catherine Saillant, Times Staff Writer
When the massive Day fire came roaring toward Revati McNay's Ojai cabin in the middle of the night last fall, sheriff's deputies roused her from sleep to warn of the approaching flames.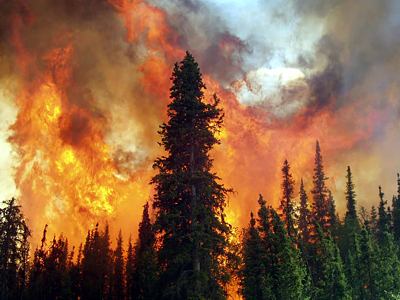 Now, as another giant fire in the Los Padres National Forest creeps closer to her Matilija Canyon home, McNay is more prepared. She and her husband keep a cat carrier near the door, ready to round up their dark-gray tabby, Billy.
A laptop filled with work on her master's degree is nearby. And each morning, McNay calls the Ventura County fire line for the latest information on the relentless Zaca fire, which this week crossed into the county's backcountry.
"You can smell the smoke in the morning," said McNay, 50. "When I go to bed, I think, 'OK, am I going to get woken up in the middle of the night?' "
Two massive wildfires bearing down on the rustic valley community in less than a year have some Ojai residents anxious and fearful, even questioning whether to stay in the disaster-prone area. The Day fire, which started on Labor Day last year, burned 162,702 acres of forestland and threatened several communities in the northern reaches of the county, but never entered Ojai.
The Zaca fire has so far consumed 222,907 acres and this week became the state's second-largest wildfire in recorded history. For weeks, huge plumes of smoke have been visible in the skies north of Ojai.
In recent days, smoke and ash have drifted over the city of 8,000, casting a drab yellow light over normally verdant orchards and forcing people to stay indoors.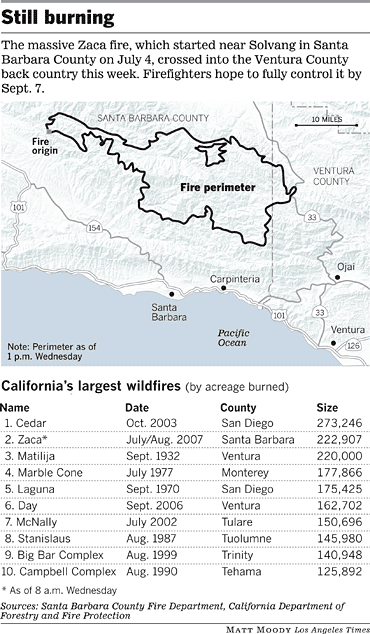 Most residents accept that Ojai's rugged beauty comes with a price. Fires and floods are a natural occurrence in a city ringed by jagged mountains, said Kelly Sheets, 32, who lives in a tidy stuccoed A-frame in Matilija Canyon.
"It's nature," Sheets said. "One day you're hiking in beautiful canyons and the next you're preparing for fire."
On Wednesday, firefighters succeeded in keeping the 6-week-old Zaca fire west of Highway 33 in the mountains north of Ojai. Crews continued lighting fires inside containment lines at the northeastern edge to rob the wildfire of fuel, said Mike Ferris, a spokesman for the U.S. Forest Service.
Further south, the fire's advance has been halted and crews have shifted their attention to putting out hot spots, Ferris said. A fire camp at the Ventura County Fairgrounds was disbanded Wednesday and a few of the 3,000 firefighters working the blaze have been allowed to return home or are being reassigned.
"As far as immediate threats to communities and property, it's looking pretty good," Ferris said. The fire is 79% contained and cooler weather over the next several days should help incident commanders meet their target of bringing the wildfire fully under control by Sept. 7, he said.
Ojai is surrounded by wilderness and gets relatively good rain in winter, spurring abundant backcountry growth that leaves the city vulnerable to wildfires, said county Fire Chief Bob Roper.
The last time flames entered the city was in 1932, when the massive Matilija fire burned 220,000 acres and destroyed a handful of homes, Roper said. The 1985 Wheeler Gorge fire ripped across Matilija Canyon, a rural community northeast of Ojai, but was contained before it reached the town.
And despite some scary days last fall when strong Santa Ana winds pushed the Day fire directly toward the city, Roper said, fire crews managed to hold the line north of Ojai.
Pete Palmer, 37, has seen several fires whip around the mountains near his home in Matilija Canyon.
He vividly remembers the Wheeler Gorge fire, which sent a wall of flames directly over the hodgepodge of rustic cabins with breathtaking speed. It destroyed one home and dozens of outbuildings, Palmer said.
"It was coming 40 to 50 miles an hour, straight down the canyon," said Palmer, who was a teenager at the time. "The firemen all just split and we were the last ones out. We came back 40 minutes later and it was like a nuclear bomb went off."
Palmer said the key to saving property is preparation. He can pump water from a nearby swimming pool and directly from Matilija Creek. He also has several canisters of a firefighting gel that can be applied over a home as a last defense.
"When the dragon is breathing down your neck, you gotta stand your line," he said.
Roper has lived in Ojai his entire career.
He and his wife see the community as a good place to raise children despite the ever-present wildfire danger.
"Ojai is truly a community" Roper said. "It's neighbors helping neighbors."
He cited a local nonprofit group, Ojai Valley Fire Safe Council, that is working to clear a firebreak on a popular hiking trail north of town. The group won federal funding to carry out the project, called the Last Defense Fuel Break, and is employing troubled youths to carry out the work.
After the Wheeler Gorge fire, the community created a monument to thank firefighters for their work, Roper said.
"It's still a small-town feel," he said. "That's what keeps us all here."