Removal of pigs from Santa Cruz Island deemed a success
Park Service and Nature Conservancy officials say endangered native species on Santa Cruz Island now have a chance to rebound.
Source of this article – Los Angeles Times, May 24, 2005.
By GREGORY W. GRIGGS, Times Staff Writer
Efforts to restore the ecosystem on Santa Cruz Island to its native state reached a milestone this week as scientists said that a two-year program to eliminate feral pigs had been a success.
Although the last confirmed pig death was last year, the National Park Service and the Nature Conservancy, which owns 75% of the island, have been monitoring the results of the $5million eradication effort since then to gauge the program's effects.
They say the island's endangered species are rebounding.
A total of 5,036 feral pigs were killed on the island 18 miles off the Ventura County coast. They were considered a threat to the endangered island fox and nine rare plants.
"Santa Cruz Island had 150 years of nonnative animals and plants, so it's not something we can solve overnight, but at this point we think things are looking, very favorable," said Kate Faulkner, the Park Service's chief of natural resources management. "This allows us to move our resources to look at other plants and animals on the island."
Faulkner said her agency, which owns a quarter of the 96 square-mile island, and the conservancy expect to spend $3 million over the next three years to study and improve conditions for native plants.
"We're trying to look ahead to anticipate what the problems might be for plants and animals that are unique to the island," Faulkner said. Removing the pigs, and tens of thousands of sheep before them, "will do a lot to move the ecosystem forward," she added.
With the last confirmed pig death on July 5, 2006, native plants, such as oak trees, could begin to rebound, biologists said.
Lotus Vermeer, director of the conservancy's Santa Cruz Island Preserve, said acorns — a primary source of the pigs' diet — can again be spotted, and oak seedlings have begun to sprout
"Because all the pigs are removed from the island, we think we have a fighting chance," she said. "It's a unique time for the foxes and for plant recovery."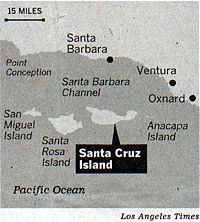 The pigs were targeted for extermination to save the Santa Cruz Island fox, a cat-sized creature found only on the island. The fox was being preyed upon by 'golden eagles, which Park Service officials say came to the Channel Islands in the 1990s to feed on these nonnative pigs.
Sheep ranchers began using Santa Cruz in the 1850s and introduced pigs as farm animals. Before-long, pigs escaped into the wild and over the decades disrupted native plants, spread seeds of nonnative plants and uncovered archaeological sites of Chumash Indian settlements.
In April 2005, the Park Service hired Prohunt Inc., a New Zealand-based  company,  to track down the pigs using helicopters with snipers, traps, dogs and' electronic collars. Officials said'the methods were "following euthanasia guidelines set forth by the American Medical Veterinary Assn."
"We deny that vehemently," said Richard M. Feldman, a Santa Barbara businessman who sued the park's owners, saying the killings were inhumane and that the Park Service violated its own rules and procedures when it approved the environmental data to support the eradication. Feldman's suit was dismissed and is currently under submission to the 9th U.S. Circuit Court of Appeals.
Elliot M. Katz, a Northern California veterinarian who is founder and president of In Defense of Animals, joined in the lawsuit and a second one filed to stop the killing of more than 100 wild turkeys that proliferated once the pigs were gone.
"Obviously, we'd like to stop the government's killing machine, but it's a difficult thing to do. It's a shame," Katz said. "They tend to be very aggressive when it comes to killing other species. As compassion and concern grows in our country, we hope they'll be forced to become responsive.