Press reports on Lang Ranch Community Park meetings
BMX fans hope to see amenities at Lang Ranch Park
Source of this article: The Thousand Oak Acorn, February 16, 2012
The park district won't be alone in deciding what's next for Lang Ranch Community Park.
More than 100 people filled a meeting room last week at Conejo Recreation and Park District's Hillcrest Drive headquarters to discuss how to develop the 124- acre property now that CRPD has learned it cannot be graded.
Sitting at tables with a park district employee documenting their recommendations, residents shared their ideas. Suggestions included a handball court, a rock climbing wall and lawn bowling, but heard most often were wishes for restrooms, hiking trails and amenities for mountain bikers.
Newbury Park resident and mountain bike coach Mark Langton said a park with a skills-building track and a pump track would take pressure off local hiking trails. A skills-building bike track is a dirt track with challenging features such as tight switchbacks, rock chutes, a ladder or suspension bridge. A pump track is a loop that contains rolling mounds and banked curves that allow riders to gain momentum by pumping their body back and forth rather than pedaling.
"You have a lot of people who want to do BMX-style riding or more aggressive riding on the trails, and those trails aren't really designed for that," said Langton, a member of Concerned Off-Road Bicyclists Association and the trails advisory group for the Conejo Open Space Conservation Agency.
"There are a lot of people who want to do things like jumping and things that have to do with riding more technical trails, something that's a little bit more rough," he said.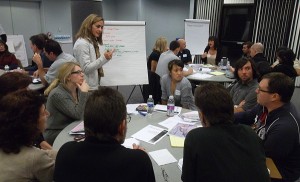 The Feb. 8 meeting was the first of four public events planned by the park district to gather input and formulate a recommendation to the CRPD board of directors.
Last month, the board was forced to scrap a 10- year, $2.5-million effort to build a fullservice park at the site after a geotechnical study revealed that up to $15 million would be needed to bring the hillside property up to stability safety standards.
Plans for the site, which is bordered by Erbes Road, Westlake Boulevard and Avenida de Los Arboles, had included a community center, five baseball diamonds and other amenities that are no longer options.
The second event was a 90-minute walk of the property led by CRPD General Manager Jim Friedl early on Feb. 11.
A third public meeting to collect more recommendations is scheduled for 7 p.m. Wed., Feb. 29, and a final meeting to organize the recommendations is planned for 7 p.m. Wed., March 21. Both meetings will be at the Hillcrest Center Community Room, 403 W. Hillcrest Drive, Thousand Oaks.
Friedl said the district is limited as to what it can do with the property. There can be no grading on the hillside, which takes up 95 percent of the land. That means the district can't build structures or roads on the slope.
"With the grading limitations, that's what you're primarily going to see—trails," he said, adding that most people asked for separate trails for hikers, equestrians and mountain bikers.
Friedl said he expects to present all recommendations from the public to the board in April. The board has the ultimate say over what will happen at the site.
Westlake Village resident Ron Hughes said he'd like to see mountain bike features in the park.
"We have a lot of ballfields and things like that, but we don't have anything for bicycles. Every kid has a bike."
Hughes said he and his two teenage sons travel long distances to find a challenging mountain bike track because the only facility in town is the skate park at Borchard Community Park, where mountain bikers can practice.
Hughes and others also suggested CRPD leave as much of the park property as possible in a natural state. Considering the limitations of the property, that's almost inevitable.
"My kids wanted me to buy this field, just a vacant lot, where they could shoot paint ball guns, fly remote-control planes and stuff like that; kids just don't get that anymore," Hughes said. "To them it's the most fun around—just an empty field."
Sitting at another table, first grade teacher Diane Evans said she'd enjoy simply strolling in the park or picnicking by a creek.
Evans, who lives across the street from the property, was glad to see the district drop its initial plans, which she said would have led to more traffic congestion on Avenida de Los Arboles and parking problems on residential streets.
"What they were planning was too invasive," she said.
Visitors offer ideas for Lang Ranch Community Park
Source of this article: The Ventura County Star, February 12, 2012
When Trevor Wennberg looks at the property that makes up the proposed Lang Ranch Community Park in Thousand Oaks, he can envision an area set aside for a championship-level course to play disc golf.
Michael-Scott Earle also said he would like to see a portion of the 124-acre future park site go toward a special trail to help mountain bikers and others improve their biking skills.
Wennberg and Earle joined about 50 people who came out Saturday morning for a walking tour of the park site and share their ideas on what they'd like to see there with representatives from the Conejo Recreation and Park District.Park district officials have been meeting with the public to solicit ideas, suggestions and concerns about possible recreational uses for the park property, which is bordered by Westlake Boulevard, Avenida de Los Arboles and Erbes Road.
The original plan to build a full-service park with baseball fields and a community center was shelved in January after a geotechnical investigation recommended moving up to 2 million cubic yards of dirt to create an underground earth dam so the property could meet required safety criteria to build on it. The land sits almost entirely on an ancient landslide area.
The cost of the work was estimated to be $10 million to $15 million, while the entire park project was an estimated $25 million.
Jim Friedl, the park district's general manager, said any ideas would have to take into account that the park property can't be graded and has a very limited water supply. Also, an existing dam, a trail owned by the Ventura County Watershed Protection District, a flood-control area and an endangered-plant area are other factors that can limit what can be placed there.
Wennberg, vice president of the Conejo Disc Golf Club, said his group has about 150 members who currently play on the more introductory Rabbit Flats Disc Golf Course, located on nine acres at Thousand Oaks Community Park on Moorpark Road.
Wennberg said he'd like to see a more advanced course, and actually prefers the hilly, traversed terrain that the proposed park site offers.
Keena Carstensen, head cross-country coach at Thousand Oaks High School, said she'd like to see a permanent cross-country course on the property for her students.
Earle, a member of the Concerned Off-Road Bicyclists Association, said there is really no place for people to learn how to ride bikes on natural terrain except in the mountains, which can be dangerous for those who don't have the necessary skills. A flat dirt area on three or four acres would be needed for the bike skills park, Earle said.
Earle said the best thing that could have happened to the property was the park district nixing the original plan for the site.
"There's no shortage of baseball or soccer fields in this community. We really need to have places that provide out-of-the-box activities," he said.
Diane Rumbaugh also was among the people taking the tour.
"We'd like to keep this as natural and pristine as possible, where there's hiking, biking and horse trails," Rumbaugh said.
Ed Jones, who is on the board of directors for the park district, joined the hike and said he has heard a lot of good ideas so far, with many coming from a recent brainstorming session. Some of the ideas have included a camping area, a wedding venue and a place to fly gliders.
There will be another brainstorming meeting from 7 to 9 p.m. Feb. 29 at the Hillcrest Center Community Room. The recommendations will be reported to the board of directors during a meeting from 7 to 9 p.m., March 21 at the same location.