Family reluctantly gives up its hold on Santa Rosa Island
The Vails' former ranch, now part of Channel Islands National Park, is no longer a home for cattle, cowboys or adventurous children. And now the family's last link to the place is being severed.
Source of this article: The Los Angeles Times, November 29, 2011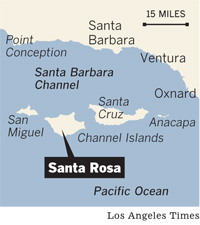 Reporting from Santa Rosa Island, Calif.
For the family that once owned Santa Rosa Island, it was part Zane Grey, part "Robinson Crusoe."
Generations of Vail cousins would arrive from the mainland and take refuge for months at a time. They would explore places with pirate-map names: Skull Gulch, Abalone Rocks, China Camp. They were city kids, but they rode with the island's cowboys and knew the island lore — stories about ghosts, about shipwrecks, about a mythical temptress named Rita who supposedly awaited new cowboys.
For a senior project in high school, Nita Vail talked her teachers into letting her saddle up for a full season on Santa Rosa, spending weeks on end with the cowboys.
It was hard, but worthwhile.
"You're in a sitting trot at dark-thirty in the morning and you're riding 20, 30 miles," Nita Vail recalled. The "gathers," as they were called, weren't over until all the cattle were herded onto custom-made ferries — the Vaqueros I and II — for the rough trip across the Santa Barbara Channel.
These days, when members of the venerable ranching family fly out to Santa Rosa Island, it isn't to round up cattle. It's to say goodbye.
The island became part of Channel Islands National Park in 1986, and the storied Vail & Vickers ranch — a spread that spanned the island's 84 square miles of rolling grasslands and rugged coastline — shut down 12 years later. But the family continued to run a big-game operation, guiding hunters to the trophy deer and elk transplanted to the island nearly a century ago.
Under an agreement with the National Park Service and an environmental group, the sport hunting ended last month. Now, professional marksmen are tracking the remaining dozens of deer and elk from canyon to canyon, sometimes targeting them from helicopters.
The Vail & Vickers Co., a partnership formed by Arizona ranchers in 1889, will dissolve Dec. 31. Without land or cattle — or deer or elk — there's nothing left to manage.
Once home to thriving Chumash villages, the island is all but unpopulated — a natural gem that only hints at its rich human history. In its day, the Vail & Vickers ranch was part of a California shaped by outsized personalities and powerful families, a state where palaces built by the likes of Hearst and Huntington have long since become public treasures.
But that doesn't make the story's ending any easier for the Vails.
"This is a sad time for us," said Nita Vail, a great-granddaughter of the rancher who bought the island 26 miles off Santa Barbara in 1901. "We tried everything we could to keep the herds, but it didn't work."
A cowboy's tale
Like all great westerns, the Vail saga started with a larger-than-life cowboy.
Walter L. Vail turned a $100 grubstake into a million-acre ranching empire based in Arizona. When the Southern Pacific railroad tried to gouge him, he orchestrated the West's last great cattle drive. He left for California in the 1890s, eventually establishing an 87,000-acre ranch in Riverside County. He survived a near-fatal Gila monster bite and other Old West calamities, but was killed by a Los Angeles streetcar in 1906.
The Santa Rosa spread was an overgrazed sheep ranch when he and J.V. Vickers bought it. The Vickers family participated in big decisions about the property, but the Vails ran it day to day, at some points living on the island for long stretches of time.
Ed Vail, one of Walter's seven children, was "a slave-driver," his nephew Russ Vail once told an interviewer. "He was a hell of a cattleman and a hell of a horseman and a hard drinker."
He also was an old-fashioned gentleman, Russ Vail said: "He rode in a coat, a tie and a vest all his life. Even if he was drunk, he was courteous as hell."
In the 1920s, the family began importing Roosevelt elk and Kaibab mule deer to the island. "There was an ethic of ranchers wanting to see wildlife on their property," said Vail cousin Will Woolley.
Those animals were also the game hunted by the family and their guests.
From time to time, Ed Vail hosted his friend Will Rogers. The two were so close that Vail was a witness when the famous humorist signed his will on Aug.5, 1935. Twelve days later, Rogers died in a plane crash at Point Barrow, Alaska.
Earl Warren, the former California governor, was hunting on Santa Rosa on Sept. 25, 1953, when a Navy PT boat showed up to ferry him back to the mainland. A guest of the Vails, he was being summoned to become chief justice of the United States.
In 1978 — partly to manage herds that had grown to 1,100 animals and partly to help the ranch through lean years — the island was opened to commercial hunting. Hunters would pay as much as $10,000 for a four-day outing, ranging the hills with guides and bedding down in the family's 1855 ranch house, the oldest wood-frame home in Santa Barbara County.
But history soon took a turn that would spell the end for the deer and elk. Fearing condemnation, Vail & Vickers sold Santa Rosa Island to the government for $30 million in 1986. At the time, the Vails knew they couldn't go on for long raising 2 million pounds of beef a year in a spot widely likened to the Galapagos, but they understood that they could keep ranching for 25 years, until 2011.
It didn't work out that way. Family members say government restrictions after the sale forced them to quit 13 years earlier than they'd planned.
A 1997 lawsuit by the National Park and Conservation Assn. hastened the end of both ranching and hunting. The group alleged that the game animals — as well as the cattle — were degrading the environment. Under a settlement, they were to be removed over a four-year period ending this Dec. 31.
Failed attempts
There were attempts to keep the deer and elk in place.
Duncan L. Hunter, a former San Diego congressman, wanted to make the island a hunting resort for wounded veterans.
In 2007, Tim Vail, a cousin of Nita's, urged a congressional committee to "engage in an open conversation that acknowledges that these magnificent herds will be slaughtered if this National Park … has its way."
The plea didn't succeed.
White Buffalo, a Connecticut-based company run by a wildlife ecologist, is conducting the final hunt. In the hunt's first few weeks, the family gave more than 4,000 pounds of elk and venison to Ventura County charities.
In a recent statement, the conservation association said removing the deer and elk will "finally end their cycle of death on the island while allowing the opportunity for the full natural diversity of plants and wildlife to flourish."
Native plants have already started a resurgence that park spokeswoman Yvonne Menard called dramatic.
The island's future is still being mapped out.
There might be expanded camping opportunities, as well as lodging on the site of the cowboys' bunkhouse. Without a hunting season, there won't be a need to restrict travel. As visitors learn about discoveries like the 13,000-year-old bones that are thought to be North America's oldest human remains, park officials hope, they will be astonished by the sweep of island history.
"It's a great interpretive opportunity," Menard said.
Russell Galipeau, the park's superintendent, said displays in the old ranch buildings will help preserve the Vails' cowboy heritage, of which there is plenty.
One recent afternoon, Woolley and Nita Vail — wearing a necklace with the ranch's old VR brand — led visitors past a tiny schoolhouse, through weathered, long-empty corrals and into a hayloft where one Henry Lopez wrote his name in large letters and inscribed the date: Oct. 31, 1896.
In a barn, dust-covered saddles sat on a beam. There were huge clumps of horsehair, a wooden rack used to stretch hides, shelves crammed with bolts and pipes transformed by time into museum pieces. In a corner, Woolley pointed out a spot once occupied by a still rigged up from an old milk jug and some tubing.
A ranch foreman made "godawful stuff he called brandy," Woolley said, and traded it to passing fishermen.
In its heyday, the ranch bustled with 10 to 15 cowboys, 150 horses and as many as 7,000 head of cattle.
Family members still hold ranching close. Tim Vail is an equine veterinarian. Woolley raises grass-fed beef in San Luis Obispo County. Nita Vail runs the California Rangeland Trust, a group that helps property owners preserve working ranches.
All that, Galipeau said, makes this "a very hard transition for the family."
At a recent gathering of ranchers, Woolley concurred.
"It's hard to see four generations of work, sweat, tears and dreams be relegated to the pages of a book," he said, "when we knew it as a breathing, living entity."