Protecting biking trails in potential wilderness areas in California
Wilderness wheels still spin
Source of this article – Los Angeles Times, August 31, 2004.
Mary Forgione
Once a month or so, mountain bikers who fear losing access to California backcountry take organized "wilderness rides" in places — from Grouse Ridge near Truckee to Mill Creek Trail in Lassen National Forest, below — that will become off-limits if the California Wild Heritage Act passes. "The idea is to show off these trails and maintain access," says Jim Haagen-Smit of Newcastle, Calif., an International Mountain Bicycling Assn. volunteer. Under the Wilderness Act, which turns 40 on Friday with celebrations in Washington, D.C., and elsewhere, lawmakers can ban "mechanized transport" (i.e., strollers, bikes, off-road vehicles) on public land such as the 2.5 million acres proposed for protection in the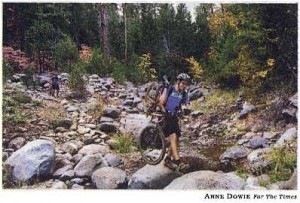 California bill, which is languishing in the Senate. The Bureau of Land Management and the U.S. Forest Service specifically prohibit bikes in wilderness areas within their jurisdictions. "We're not against mountain bicycles themselves, but we're certainly against mountain bicycles in wilderness areas," says Michael Carroll, communications director for the environmental nonprofit Wilderness Society's resource center. Knobby tires, they say, tear up fragile vegetation and trails. But Haagen-Smit says fat-tire enthusiasts just want the same freedom that backpackers enjoy: enough space to get far, far away from the car campers. See www.imba.com or www.wilderness.org.