Cycling Nude in LA to Protest Oil Dependence
Police presence puts a chill on the L.A. leg of World Naked Bike Ride against oil dependence.
Source of this article – Los Angeles Times, June 13, 2004.
Daren Briscoe | Times Staff Writer
You could almost say that the Los Angeles leg of the World Naked Bike Ride went off as planned Saturday, if you disregarded all the cops and clothes.
It began well, despite an early morning marine layer. Nearly a dozen riders showed up at the Venice Beach Pier, validating an earlier prediction of "anywhere from zero to 60" participants.
The idea was for cyclists, from Brazil to the Netherlands, to protest global dependence on oil by biking nude along predetermined routes in their respective countries.
By pedaling, the protesters would demonstrate an alternative mode of travel. By cycling in the buff, they would demonstrate their free-spiritedness and their willingness to chafe for the cause.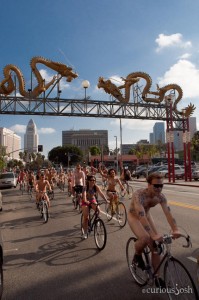 But any pride generated by the respectable turnout was dampened by a heavy police presence, including bicycle cops from the Los Angeles and Santa Monica police departments, a mobile command trailer and a conspicuously parked paddy wagon.
That was a little too much heat for the event's local organizer, a 47-year-old longtime nudist who goes by the name Vinyasi.
"I'm a nudist, not an activist," Vinyasi said before the ride.
In keeping with his remarkably cooperative philosophy regarding public nudity, Vinyasi had made several phone calls telling police of his intentions.
Not exactly a stealth approach for someone with 30 years of nudist experience, including three arrests, two criminal complaints, two hearings, one citation and "many visits" with police at his front door.
On the contrary, "I wanted to give them a heads up," said Vinyasi, who sees practicing public nudity as a "search for compassion" that requires reciprocity.
If officer deployment was any sign, Vinyasi's advance warning was much appreciated. He and his cohorts were met in a public parking lot by LAPD Capt. Bill Williams, who advised the all-male group that anyone exposing delicate areas would be arrested for violating the California penal code.
Forewarned via e-mail about just such an eventuality, the bikers had taken greater or lesser measures to protect themselves.
"I think it's indecent that the idea of nudity has been made indecent," said Jim Dufourd, 52, an architect clad in a sombrero, cutoff T-shirt, wristwatch and codpiece fashioned from a plush toy.
Frank Villafranca pushed the envelope further by attaching fore and aft photographic reproductions to the outside of his flesh-colored loincloth.
"This is legal because when it's a photo, it's considered art," said Villafranca, 47.
And so, in various states of dress and undress, the procession rolled west on a bike path toward the Santa Monica Pier, trailed by watchful officers.
Taking no chances, Vinyasi, their leader, was bundled in a turquoise sweatshirt pulled over a fuchsia turtleneck, jeans, beach slippers and a blue beanie that covered his ears.
"They said we could wear whatever is comfortable as long as it's legal," Vinyasi said, "but at this point nothing's comfortable."
The group returned an hour or so later, sweaty, winded and sounding vaguely satisfied to announce that there had been no arrests.
At least one cyclist, a financial advisor named Mark who declined to give his last name, was also candid about the whole oil-dependence thing.
"The fact is, we're not doing a thing to reduce the consumption of gas," Mark said. "Did we get our message out? Yeah, to the police."