Bush Takes a Tumble on Bicycle Trail
The president, who suffered some abrasions and scratches on outing at his ranch, insists on finishing his ride. 'He was fine,' an aide says.
Source of this article – Los Angeles Times, May 23, 2004.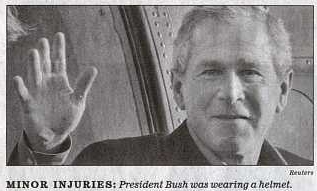 Peter Wallsten | Times Staff Writer
President Bush took a spill during a Saturday afternoon bike ride on his ranch, suffering bruises and cuts that were visible later on his face just two days before he was to deliver a major prime-time speech on his Iraq policy.
The president was nearing the end of a 17-mile ride on his mountain bike, accompanied by a Secret Service agent, a military aide and his personal physician, Richard Tubb, who treated him at the scene, said White House spokesman Trent Duffy.
"It's been raining a lot and the topsoil is loose," Duffy said. "You know this president. He likes to go all-out. Suffice it to say he wasn't whistling show tunes."
Duffy said the president, who was wearing a helmet, suffered "minor abrasions and scratches on his chin, upper lip, nose, right hand and both knees."
"He was fine," the spokesman added. "The Secret Service offered to drive him back to the house. He declined and finished his ride."
Bush has scheduled six speeches on Iraq in the coming weeks, White House officials said. The first speech is scheduled Monday at the Army War College in Carlisle, Pa.
The result of the fall was reminiscent of an incident in January 2002, when Bush briefly lost consciousness after he choked on a pretzel while watching a football game. He suffered a scrape and a bruise on his face after falling off a couch and hitting his head on a coffee table. Later he joked about it, giving reporters a bag of pretzels with a note: "Chew slowly."
Democrats fall down on the job as well.
In 1997, President Clinton ruptured a tendon in his right knee during a middle-of-the-night tumble on stairs at the Florida estate of professional golfer Greg Norman.
And in May, Bush's presumed Democratic challenger, Sen. John F. Kerry of Massachusetts, fell off his bike while riding with Secret Service agents through Concord, Mass. Kerry's bike tires hit a patch of sand; he was not hurt.