Panel Decides on a Plan to Remove Dam
Tearing down Matilija Dam, near Ojai, would revive endangered trout stocks, advocates say.
Source of this article – Los Angeles Times, February 9, 2004.
Catherine Saillant | Times Staff Writer
Matilija Dam should be torn down all at once in order to revive the dwindling population of endangered southern steelhead trout, a coalition of federal, state and local officials has decided.
After three years of study, a task force has come up with a plan to remove the obsolete 20-story structure north of Ojai and remove the 6 million cubic yards of silt behind it, said Ventura County Supervisor Steve Bennett.
A local water district has raised concerns that the project minimize the effects on water quality and water supply. But so far, no major opposition has materialized.
"That is significant," said Bennett, a member of the task force. "Usually these projects have opponents."
Advocates say the dam's removal, which is expected to cost tens of millions of dollars, would replenish Ventura's sand-starved beaches and restore a historical breeding ground for steelhead in the upper reaches of the Ventura River.
The muscular trout, which can grow up to 3 feet long, once traveled from the mountains to the sea and back again along Southern California's rivers.
But their numbers have dropped precipitously in recent decades as upstream breeding grounds were closed off by dams and roads, said David Pritchett, a spokesman for the Southern California Steelhead Coalition.
Tearing down Matilija Dam would restore 50% of that lost population, advocates say, while serving as a testing site for the demolition of other aging dams across the nation.
At 190 feet tall and 600 feet wide, Matilija is the largest dam in the country to be targeted for removal.
"We look at the restoration of the Ventura River as probably the best opportunity for steelhead recovery in Southern California," Pritchett said. "It would allow a lot of fish to get back from the ocean and act like steelhead again."
Demolition plans gathered momentum last week when a key state official surveyed the project site by helicopter and offered tentative approval.
Although dams in Malibu and Carmel are also targeted for removal, plans to remove Matilija are further along, said Sam Schuchat, who heads the state's Coastal Conservancy.
"Taking a dam down is so complex; it is its own art," said Schuchat, whose recommendation will be crucial in getting the state to provide a chunk of the estimated $100-million cost of removal.
"But there is a convincing case that this project is the closest to moving the dirt."
Gazing down at the silt-choked barrier from 2,500 feet, Schuchat acknowledged that tearing down dams is a little unusual for the conservancy, which more often purchases coastal lands for preservation. But projects that restore any coastal resources fall under the agency's umbrella, Schuchat said.
"Removing barriers to fish passage is a big priority for us," he said. "Nothing works as well as a free-flowing river for fish."
Despite the task force's progress, there is still uncertainty over when the dam demolition can begin. Proponents are counting on major funding from the U.S. Army Corps of Engineers.
The corps is close to completing its own feasibility study, which is necessary before it can begin seeking authorization for the project, a spokesman said.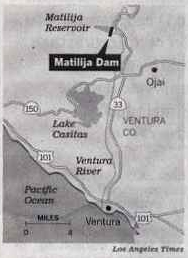 The task force, made up of state, federal and local officials, as well as environmentalists, community members and representatives of affected water districts, has met frequently for three years to come up with an acceptable plan.
Members initially proposed removing the concrete structure in phases to allow the tons of silt and cobblestones behind it to wash away over time. Sediment behind the structure's concrete wall, built in 1947, has made it useless as a reservoir or as flood protection, officials say.
Opposing sides eventually agreed to remove the dam all at once, Bennett said. The bigger problem, though, was deciding what to do with the sediment.
Casitas Municipal Water District, which provides water to 75,000 residents in Ventura and Ojai, operates a canal below the dam that diverts water to Lake Casitas.
Allowing sand and sludge to wash down the river would overwhelm the diversion canal and cause water-quality problems for Casitas, Bennett said.
The group's solution was to build another canal that would send the finest silt behind the dam, about 2 million cubic yards, to grounds below the Casitas structure and pile it up in terraces there, he said.
A 100-foot-wide channel would be carved into the remaining rocky sand, allowing the sand to wash out to sea during storms. The dirtiest water would be kept out of the Casitas division canal with a specially constructed filter, Bennett said.
A Casitas spokesman said the water district's board had some remaining concerns, but it was working with the task force to get them resolved.
The board wants assurances that its own water supply would not be affected, Executive Director John Johnson said. It also is requesting tests of the soil to make sure it is not contaminated, Johnson said.
"So far, so good," he said. "But we've asked additional questions and are awaiting the response before we make up our minds."
Bennett said the task force planned to remove the dam within five years. A lot depends on how quickly the project can get the necessary funding, he said.
Schuchat agreed that more work remained to be done. But he said he would tell federal officials that he was enthusiastic about the project during an upcoming trip to Washington, D.C.